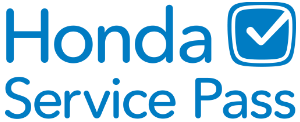 The Honda Service Pass is a program that offers maintenance coverage on Honda vehicles (beginning with the 2023 Honda Odyssey) for two years from the registration date or for 24,000 miles, whichever comes first. This additional maintenance coverage allows for worry-free driving during your travels.
Honda Service Pass Program Rules
Maintenance coverage: A1 and B1 services (oil change, oil filter, tire rotation), and MPI (multi-point inspection) as determined by the vehicle's Maintenance Minder system
Term: 2yrs/24k miles (whichever comes first) for New 23MY vehicles
Location: Included maintenance must occur at a participating dealership (dealers will have the option to participate in the program)
Vehicle Brands: Honda vehicles must be serviced at participating Honda dealerships and Acura vehicles must be serviced at participating Acura dealerships
Honda Genuine and Acura Genuine parts and oil must be used by participating dealerships (parts and oil as determined by AHM)
Included maintenance is a benefit of the vehicle and is transferrable to subsequent ownership, the coverage terms do not reset *2023 Odyssey shown and offer only available for 2023 Odyssey
Honda Service Pass Program F.A.Q.

Is There a Limit on Maintenance During the 2 years/24,000-Mile Coverage?
No, there is no limit on complimentary services. As long as the maintenance is needed per the maintenance minder system, you can get the service your vehicle requires.
---

Does the Maintenance Minder Notification Have to Be On?
Yes, for service to be eligible, the maintenance minder notification has to be on.
---

Will There Be a Grace Period After 2 Years/24,000 Miles?
No, there is no grace period, so make sure you get your included maintenance items performed if your vehicle is eligible for the Honda Service Pass!
---

Is the Honda Service Pass Transferable?
Yes! The Honda Service Pass is transferable if the vehicle is sold within the 2 year or 24,000-mile program terms. The new owner will simply get the remainder of what's left on the Honda Service Program term limits.
Meet Our Sales Team