The compact car is the perfect vehicle for so many situations. Whether you are a college student moving in to PSU, or a commuter who has to make the trip from State College to Harrisburg and back every day, today's compact cars are safe, efficient, and budget-friendly. The modern compact has also added another arrow to its quiver - fun.
It doesn't get much more fun than the 2019 Honda Civic. Stylish, with great engines to choose from, and the latest technology, it's  an all-around winner. It's left other vehicles in its dust - but they are certainly trying to catch up. Toyota redesigned the Corolla in 2018 to try and regain some ground on the Civic, but does the 2019 Toyota Corolla match up? Or is the Civic still the king of the compact hill?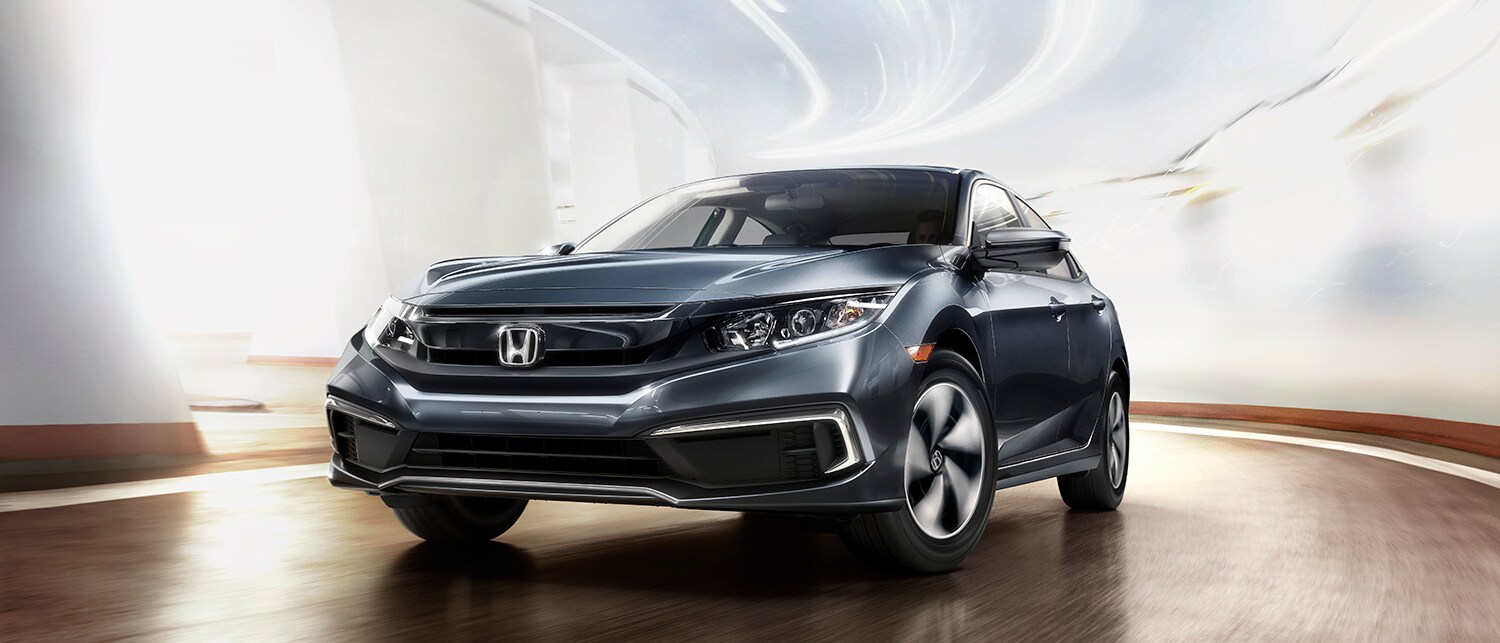 Which car has better Fuel Efficiency, the Honda Civic or Toyota Corolla?
Compact cars have always been some of the most efficient cars on the road, hybrid or otherwise. The 2019 Honda Civic and the 2019 Toyota Corolla both offer solid fuel economy numbers, so you won't be visiting Sheetz for much more than a Shmuffin and coffee.
With their respective base engines, the Civic has a clear lead on the Corolla. The best you'll get out of the Corolla is 28 MPG city and 36 MPG highway, which is better than average for the segment. It trails the Civic though, which can get up to 29 MPG city and 37 MPG highway in the Sport trim, while the lighter LX can get 30 MPG city and 38 MPG highway. So even though the Civic has a slightly smaller tank, your miles between fill ups are going to be about equal.
Toyota offers a Corolla ECO model, that is built specifically for efficiency. It helps out a little, getting up to 30 MPG city and 40 MPG highway. Unfortunately for Toyota, the available 1.5-liter turbocharged engine in the Civic tops that, with to 32 MPG city and 42 MPG highway. Any way you cut it, the Civic will save you money at the gas pumps.
Is the Honda Civic or Toyota Corolla a more powerful car?
With all that talk of fuel efficiency, you might be worried that these cars don't have enough power to tackle the massive inclines in and out of State College. You'd be half-right.
While Toyota has worked to make the 2019 Toyota Corolla look sporty and aggressive on the outside, they should have spent more time under the hood. With 132 horsepower and 128 lb-ft of torque, paired with either a six-speed manual or a continuously variable transmission, the base 1.8-liter engine in the Corolla is anything but sporty. It lumbers up hills, and is a liability if you are looking to overtake on high-speed sections of the roadways.
T The 2019 Honda Civic, on the other hand, crams 158 horsepower and 138 lb-ft of torque into its base 2.0-liter engine. Like the Corolla, it can be paired with a six-speed manual transmission or a CVT; unlike the Corolla, it is gutsy and responsive, great at merging and overtaking, and puts the fun into the compact once again.
 While the ECO trim in the Corolla tweaks the power to 140 horsepower and 126 lb-ft of torque, there isn't much of an uptick in driving enjoyment. Once again, Honda upstages the competition - the 1.5-liter turbo that is more efficient than the ECO also is a lot more gutsy. With 174 horsepower and 167 lb-ft of torque, it is quick off the line, and zippy on back roads. If you want to push the power boundary even further, drivers can opt for the suave Civic Si Sedan. This in-line 4-Cylinder engine boasts a powerful 205 hp @ 5700 rpm and 192 lb-ft of torque, the Corolla doesn't even come close. Leave it to Honda to make an engine that is one of the most powerful yet also one of the most efficient engines available in the class.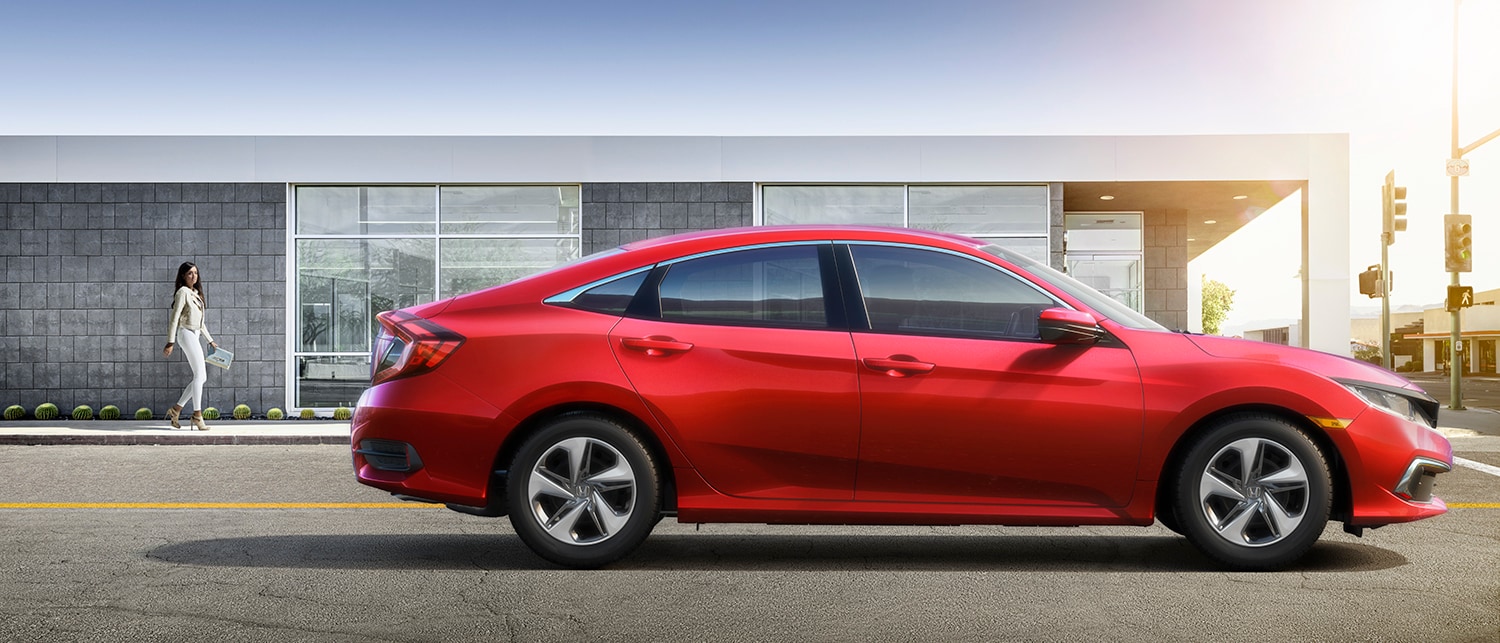 Does the Honda Civic or Toyota Corolla have more Interior Space?
Whether it is a late-night drive or having to pack everyone in for a lunch run to Chipotle, sometimes you need to use the back seat of your car for more than just your computer bag. So it helps for it to have enough room for the average-sized teenager or adult to be comfortable.
In the 2019 Honda Civic, that's not an issue. While both of them are close in terms of head room and leg room, the Civic offers wider, more supportive seats than the Corolla. Up front, there is 57.0 inches of shoulder room and 53.7 inches of hip room, compared to 54.8 inches of shoulder room and 53.0 inches of hip room. The rear seat has similar differences, with the Civic having 55.0 inches of shoulder room and 47.3 inches of hip room versus 54.8 inches and 43.9 inches respectively in the Corolla.
When you're filling up the back seat with people, bags and everything else need to go in the trunk. With 15.1 cubic feet of space, the Civic is at the top of the class. The Corolla will leave you putting a bag or two in the passenger cabin, with only 13 cubic feet of cargo space.
Which car has better Tech Features, the Honda Civic or the Toyota Corolla?
From driver-assistive systems to the latest in entertainment and connectivity, the modern compact has to be hooked up.
Both the 2019 Honda Civic and the 2019 Toyota Corolla have solid entertainment systems and smartphone mirroring, although the Civic does it better. For instance, the Civic offers a 10-speaker, 450-watt audio system with a subwoofer and HD Radio. The Corolla tops out with a tinny six-speaker unit that won't impress anyone when you turn it up. You'll get more audio options with the Civic as well - Android Auto and Apple CarPlay mean more possibilities from the 'net, including streaming audio. While Toyota's Entune units does offer smartphone mirroring, it's not as powerful or intuitive as the Android and Apple systems.
Honda does better with the accident-avoidance technology as well. The Honda Sensing is standard on every model, and features Forward Collision Warning, Lane Departure Warning, Lane Keeping Assist, Adaptive Cruise Control, Collision Mitigation Braking, and Road Departure Mitigation systems. Automatic high beams are also standard on all trims, while Honda LaneWatch is standard on the EX, EX-L and Touring trims. The Corolla offers some comparative systems, but comes up short as it doesn't have anything similar to the Road Departure Mitigation or the LaneWatch systems.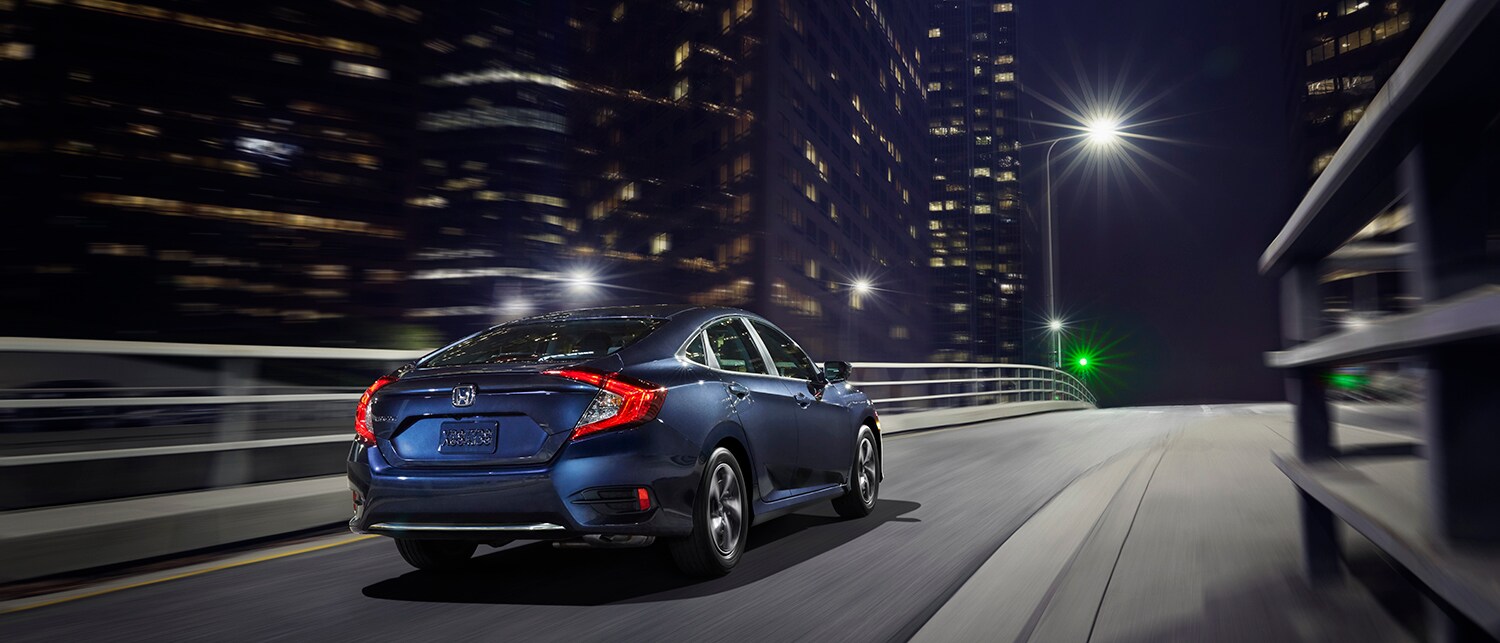 ---
25 city/36 highway/29 combined mpg rating for LX & Sport 6MT trims. 30 city/38 highway/33 combined mpg rating for LX CVT and Touring trims. 29 city/37 highway/32 combined mpg rating for Sport CVT trim. 32 city/42 highway/36 combined mpg rating for EX & EX-L trims. Based on 2019 EPA mileage ratings. Use for comparison purposes only. Your mileage will vary depending on how you drive and maintain your vehicle, driving conditions and other factors.